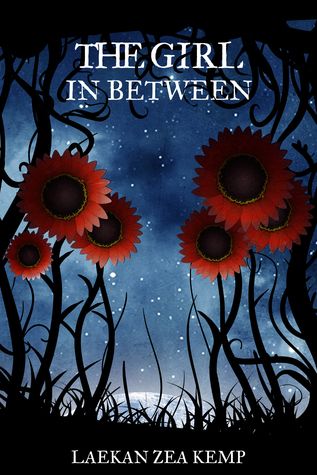 The Girl in Between
(The Girl in Between, #1)
By: Laekan Zea Kemp
Publisher: Self-Published
Published: Sept. 30, 2014
Genre: Paranormal Romance
Bryn Reyes is a real life sleeping beauty. Afflicted with Klein-Levin Syndrome, she suffers episodes of prolonged sleep that steal weeks, and sometimes even months, from her life. But unlike most KLS patients, she doesn't spend each episode in a catatonic state or wake up with no recollection of the time she's missed. Instead, Bryn spends half her life in an alternate reality made up of her memories. For Bryn, the past is a place, until one day a boy she's never met before washes up on the illusory beach of her dreams with no memory of who he is.

But the appearance of this strange boy isn't the only thing that's changed. Bryn's symptoms are worsening, her body weakening as she's plagued by hallucinations even while awake. Her only hope of finding a cure is to undergo experimental treatment created by a German specialist. But when Dr. Banz reveals that he knows more about her strange symptoms than he originally let on, Bryn learns that the boy in her head might actually be the key to understanding what's happening to her, and worse, that if she doesn't find out his identity before it's too late, they both may not survive.
"Can I show you something?" she asked.
I wasn't sure if I should follow her or even if I could but I didn't want her to let go of me. I didn't want her to disappear again and leave me there alone, still lost. So I nodded.
We swam to the end of the dock and she untied the small rowboat. She climbed in first, reaching for the oars and holding it steady as I sat down across from her. I watched the house recede. My eyes trailed back to the road, still waiting for someone to come down it. They didn't.
"Where are we going?" I asked.
"Not far."
I searched the horizon but it was empty. No land. No boats. It felt like we were headed straight for the skyline, about to fall off into nothing. The waves grew choppy and I wanted to take the oars from her but I didn't know where we were going and for some reason I liked listening to the slow rhythm of her breathing as she fought the waves.
The boat finally grinded to a stop and when I looked over the edge the water was so clear I could see tiny creatures bedding in the sand, their thin shadows eclipsed by the girl as she climbed onto the sandbar.
"I went to the Bahamas once when I was thirteen," she said. "The water was so blue. I strapped on a snorkel and spent the entire week just walking from sandbar to sandbar, face underwater watching the fish swim by."
I followed her out of the boat and a school of bright yellow fish cut between us, scales glinting.
"This?" I said.
She smiled and walked around to the other side of the boat. The water was a dark grey, my legs tangled in a mess of rust colored seaweed. I could barely see my feet, their shadows disappearing beneath swirls of mud.
"This is the Gulf of Mexico near Galveston. I tagged along on one of my mom's work trips. It was just a few weeks after Hurricane Ike."
I stared at the muddled outline where the two oceans converged—one light, one dark. I waited for them to mix, for that invisible seam to break free but it didn't.
We waded farther out into the clear water, another school of fish bumping against my calf, bright red coral twisting near my ankles. It was startling.
"I used to come here," she said. "When I first got sick I would stand here and it wouldn't feel like purgatory anymore. They're memories." She faced the beach. "My memories." Then she looked at me. "I don't know why you're here or if you're—"
"Real?" I asked.
She nodded and I wasn't so sure anymore either.
"But you don't have to be afraid," she said. "It doesn't have to feel like purgatory."
I watched the sunlight reflecting off the ocean and dancing against her skin. Her eyes were lighter in the sun; green churning to a soft sea foam like the waves crashing near our feet. And standing there in that invisible seam between two oceans, two worlds, she was just as startling.
The tide swirled in her gaze and I watched it shimmer there, glinting from a soft grey to jade and then I said, "It doesn't."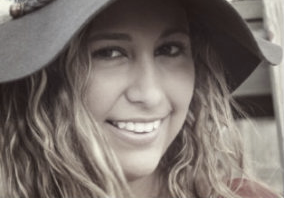 Laekan is a writer and explorer extraordinaire who grew up in the flatlands of West Texas. She graduated from Texas Tech with a BA in Creative Writing and is the author of the multi-cultural New Adult novels The Things They Didn't Bury, Orphans of Paradise, Breathing Ghosts, and the Young Adult novel The Girl In Between, which is the first in an upcoming paranormal romance series.

Website | Twitter