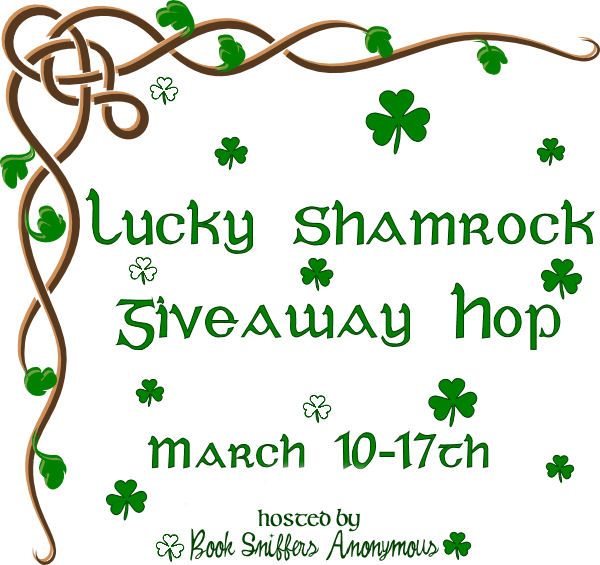 I'm super excited to be hosting my very first giveaway hop. There's just something about St. Patrick's Day that gets me excited every year. It has nothing to do with the excessive drinking that most people associate with St. Patrick's Day, but more the fact that everything and anything remotely related to Ireland comes out of the woodwork. I love the color green and if I had to choose a favorite shape (if there is such a thing) it would be a shamrock.
My dream vacation is to explore Ireland and visit all the amazing castles and of course going to see the Blarney Stone. So it makes sense that St. Patrick's Day is my favorite holiday of the year. I get to break out all my green clothes, hang all my shamrock stuff and blare some Irish tunes without looking like a crazy person.
It's time to get to the good stuff! I'm giving away winners choice of any book from the following books/series below. The winner will be able to choose ebook or paperback (as long as Amazon ships to your country).

Any book from the Iron Druid Chronicles
By: Kevin Hearne
Genre: Urban Fantasy
Goodreads

Atticus O'Sullivan, last of the Druids, lives peacefully in Arizona, running an occult bookshop and shape-shifting in his spare time to hunt with his Irish wolfhound. His neighbors and customers think that this handsome, tattooed Irish dude is about twenty-one years old–when in actuality, he's twenty-one centuries old. Not to mention: He draws his power from the earth, possesses a sharp wit, and wields an even sharper magical sword known as Fragarach, the Answerer.

Unfortunately, a very angry Celtic god wants that sword, and he's hounded Atticus for centuries. Now the determined deity has tracked him down, and Atticus will need all his power–plus the help of a seductive goddess of death, his vampire and werewolf team of attorneys, a sexy bartender possessed by a Hindu witch, and some good old-fashioned luck of the Irish–to kick some Celtic arse and deliver himself from evil.
Any book from the Goblin Wars series
By: Kersten Hamilton
Genre: YA Fantasy
Goodreads

Teagan Wylltson's best friend, Abby, dreams that horrifying creatures—goblins, shape-shifters, and beings of unearthly beauty but terrible cruelty—are hunting Teagan. Abby is always coming up with crazy stuff, though, so Teagan isn't worried. Her life isn't in danger. In fact, it's perfect. She's on track for a college scholarship. She has a great job. She's focused on school, work, and her future. No boys, no heartaches, no problems.

Until Finn Mac Cumhaill arrives. Finn's a bit on the unearthly beautiful side himself. He has a killer accent and a knee-weakening smile. And either he's crazy or he's been haunting Abby's dreams, because he's talking about goblins, too… and about being The Mac Cumhaill, born to fight all goblin-kind. Finn knows a thing or two about fighting. Which is a very good thing, because this time, Abby's right. The goblins are coming.
Irish Girls About Town
By: Maeve Binchy, Marian Keyes, Cathy Kelly
Genre: Chick-Lit
Goodreads

Get ready to paint the town green.

New York Times bestselling authors Maeve Binchy and Marian Keyes top an impressive roster of the Emerald Isle's most popular women writers as they celebrate the joys and perils of love and the adventure and constancy of female friendships.

In Maeve Binchy's "Carissima," an ex-pat returns to Ireland and shakes things up for her family, who finds her free spirit scandalous. In "Soulmates," by Marian Keyes, one woman's relationship is so bleedin' perfect that it's driving her friends crazy. In Cathy Kelly's "Thelma, Louise and the Lurve Gods," two women on a madcap Stateside road trip encounter a pair of insanely good-looking men….These fabulous stories and a baker's dozen more prove that when it comes to spinning a good yarn, the Irish are the best in the business.
Make sure to hop on over to the other blogs participating!