I don't know about you but I have a lot of books on my shelves that have been there for a handful of years now. Pretty much since I bought bookshelves, I've had books waiting to be read. With reading review books, ARC's before they come out, and just plain blogging, my personal reads have fallen into the land of Forgotten. So I decided to take part in Roll Back Week where for the entire week I read older books that had been sitting on my shelf collecting dust. Given the fact that Thanksgiving was this week and it was also the only week I had to spend with the Mr. before he went off for training, I didn't read as much as I'd hoped. I was shooting for a book a day. What I got was three and a half books… I'm still reading the fourth book.
I know I'm not alone on this though, with so many books coming out and review requests coming in, how do you stay on top of it all? Do you make time to read your personal books or are they like mine, forgotten on the shelf? I'm having a rough time trying to juggle personal and blog reading. There are so many series that I've started, like Bloodlines by Richelle Mead, and LOVED but now just buy the books if I remember and put them on the shelf next to the others to read at a later date. You can imagine with doing this my bookshelves are overflowing with books since I'm not actually reading them and instead just saving them up for later. Which is why I'm giving away the four books I read during the Roll Back Week. With doing the challenge I realized that there are good books on my shelf just waiting to be read. Maybe I will try to alternate between reading personal and review books. Maybe I will continue to take a week off every month and just read personal books. I have more than enough on my bookshelves, I don't even want to think about the hundreds of books on my e-readers. :cringes:
How do you juggle your personal reads and the review books?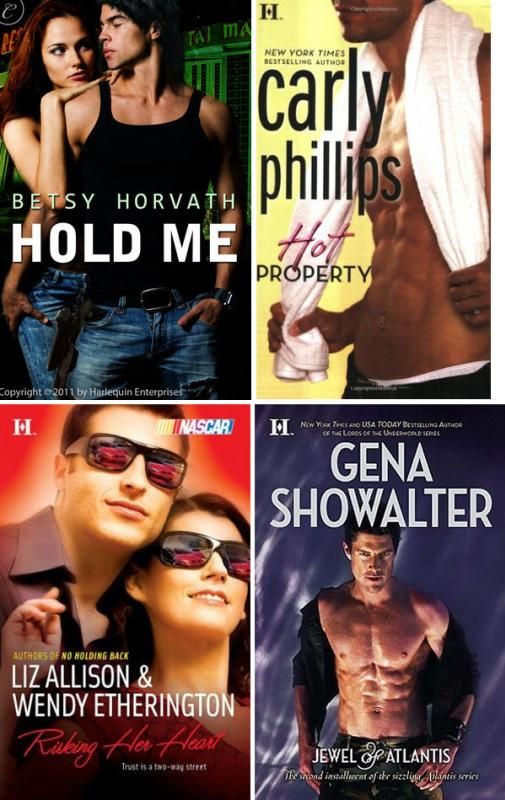 Hold Me by Betsy Horvath
Hot Property by Carly Phillips
Risking Her Heart by Liz Allison, Wendy Etherington
Jewel of Atlantis by Gena Showalter
Giveaway is US only
a Rafflecopter giveaway