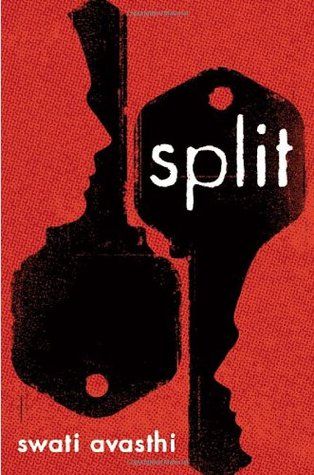 Split
By: Swati Avasthi
Publisher: Knopf Books for Young Readers
Published: March 9, 2010
Genre: Contemporary YA
Rating:






Sixteen-Year-Old Jace Witherspoon arrives at the doorstep of his estranged brother Christian with a re-landscaped face (courtesy of his father's fist), $3.84, and a secret.

He tries to move on, going for new friends, a new school, and a new job, but all his changes can't make him forget what he left behind—his mother, who is still trapped with his dad, and his ex-girlfriend, who is keeping his secret.

At least so far.

Worst of all, Jace realizes that if he really wants to move forward, he may first have to do what scares him most: He may have to go back.

Jace has known nothing but abuse since he was a kid. His father beat both his mother and his brother. Jace was the "favored child" until Jace's brother up and left, disappearing into the world, leaving Jace to take his place as his father's punching bag. Only one day after he beats and rapes his mother, Jace fights back, which is when he finds himself beaten into unconsciousness and kicked out of the only home he's ever known. His only saving grace is an envelope with his brother's address on it. The same brother that left him and their mom to face that monster they call dad, the brother who has never once reached out to him since leaving. But what other choice does he have when his father's parting words are, "Return and I'll kill her."
Wow! That's all I can say. It's been a few hours since I finished reading this and I'm still lost for words. This was one of those books where the content breaks your heart and brings out so many emotions in you. I was sad, appalled, outraged, and just plain old confused by it all. I mean, Jace himself shows the same tenancies as his father, so how can I feel pain for someone like that. But at the same time, he's been carrying this need to fight back since he was little. He has a set of "fightology" rules that he goes by. Rules that helped him survive the beatings from his father.
Not to mention the confusion over Jace's brother, Christian, who doesn't seem pleased to have his brother back. He kind of pushes him away and on one hand you think, "how can you be so cruel?", but at the same time, he doesn't want to be taken back to his childhood. He did all he could to escape and become someone else so that their father couldn't find him. He doesn't want to be reminded of the mother and brother he left behind or the suffering he still endures from his years in that house.
The whole story is messed up to say the least. I couldn't imagine growing up in an environment like that. I couldn't imagine the confusion and heartache over leaving your own mother behind knowing what your father will do. This is a gripping story that deals with a heartbreaking subject. The author did a phenomenal job portraying these characters and bringing their story to life. I will be thinking about this book for a while.



"I never realized how much I hated statistics until this moment. How pleasant, how reassuring, how helpful to know that my family is not an anomaly, that all the times my dad has come after us can be reduced to fat black numbers and percentages on a page."