Sunday Wrap-Up is all about sharing the books and book related items that I've picked up recently. I also recap what went on last week and let you in on what's coming up. I link up my post to Sunday Post, Bought, Borrowed & Bagged, Showcase Sunday, and Stacking the Shelves.


I know I don't do these every week but that's because I've slowed way down on review books. I have been wanting to catch up on my books that have been neglected which means nothing new is really coming it. So my Sunday wrap-ups will more than likely only happen once a month unless I get some huge haul in for some reason or another.
If you follow me on Twitter or Tsu you may have saw me talking about this year's San Diego Comic-Con and how I was successful in getting a slot on the volunteer list. I've been trying to get into Comic-Con for two years now and have never been able to snag a ticket. This year I decided to try to get a volunteer slot and I was able to make the cut. Super excited to be going to SDCC this year.
I've teamed up with Christina from Christina Reads YA to do a read along for Sweet Venom by Tera Lynn Childs. Our goal is to push each other to read books that have been sitting on our shelf for a while. I definitely need pushing since I keep getting distracted by new books coming out. This week alone had a lot of amazing books that came out. I'm also doing a read-along for the Alpha and Omega series by Patricia Briggs leading up to the upcoming release of Dead Heat with a group of bloggers (link on sidebar).
This week I also posted the sign-up linky for the Lucky Shamrock Giveaway Hop for next month. It's only my second year doing it but I love the idea that there are no hoops for entrants to jump through in order to enter the giveaway. All they need is a little luck on their side.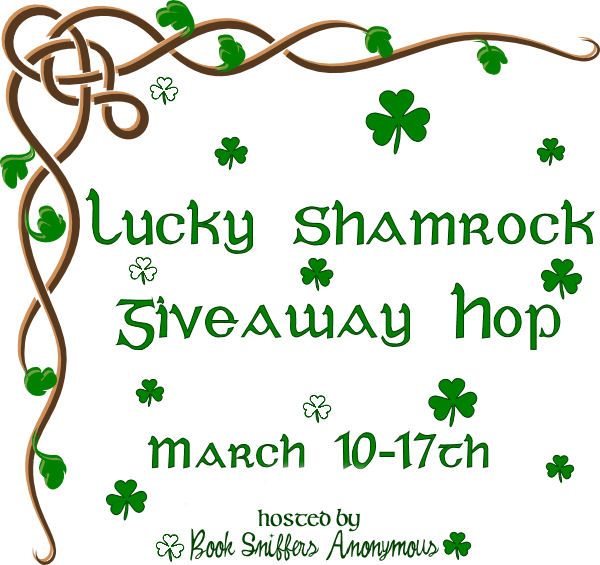 Last week on BSA:
Lucky Shamrock Giveaway Hop (Sign-Ups)
Eleven Weeks by Lauren K. McKellar (Excerpt)
The Winner's Curse by Marie Rutkoski (Review)
Melt Into You by Roni Loren (Review)
One of the Guys by Lisa Aldin (Review)

This week on BSA:
Book Covers: Are They Important to You? (Ramblings of a Book Sniffer)
Kiss of Fire by Deborah Cooke (Review)
Some Boys by Patty Blout (Review)
All Over You by Emily Snow (Review)



Collide
By: Melissa West
Release Date: Feb. 9, 2015
Genre: YA Sci-Fi
Goodreads | Amazon | B&N

Military legacy Ari Alexander has survived alien spies, WWIV, and a changing world order. But when the new leader of Earth uses Jackson—the only boy she's ever let herself care about—to get to her, Ari has no choice but to surrender.

To free Jackson, she agrees to travel to the national bases to train others to fight. What she discovers is a land riddled with dying people. Ari has the power to heal by turning the fighters into aliens—half-breeds like her. If she succeeds, together, they have a chance at overthrowing the alien leader, Zeus. But if she fails, everyone she holds dear will be wiped away forever.

Once again, everything Ari's come to believe is thrown into question. In a world of uncertainty, loyalties are tested, lies are uncovered, and no one can be trusted. If Ari and Jackson have any hope at survival and at preserving a life for the future, they must fight the final war with their eyes wide open.
Sweet
By: Emmy Laybourne
Release Date: June 2, 2015
Genre: YA
Goodreads | Amazon

People would kill to be thin.

Solu's luxurious celebrity-filled "Cruise to Lose" is billed as "the biggest cruise since the Titanic," and if the new diet sweetener works as promised—dropping five percent of a person's body weight in just days—it really could be the answer to the world's obesity problem. But Laurel is starting to regret accepting her friend Viv's invitation. She's already completely embarrassed herself in front of celebrity host, Tom Forelli (otherwise known as the hottest guy ever!) and she's too seasick to even try the sweetener. And that's before Viv and all the other passengers start acting really strange.

But will they die for it, too?

Tom Forelli knows that he should be grateful for this job and the opportunity to shed his childhood "Baby Tom-Tom" image. His publicists have even set up a 'romance' with a sexy reality star. But as things on the ship start to get a bit wild, he finds himself drawn to a different girl. And when his celebrity hosting gig turns into an expose on the shocking side effects of Solu, it's Laurel that he's determined to save.
A Court of Thorns and Roses
By: Sarah J. Maas
Release Date: May 5, 2015
Genre: YA Fantasy
Goodreads | Amazon | B&N

When nineteen-year-old huntress Feyre kills a wolf in the woods, a beast-like creature arrives to demand retribution for it. Dragged to a treacherous magical land she only knows about from legends, Feyre discovers that her captor is not an animal, but Tamlin—one of the lethal, immortal faeries who once ruled their world.

As she dwells on his estate, her feelings for Tamlin transform from icy hostility into a fiery passion that burns through every lie and warning she's been told about the beautiful, dangerous world of the Fae. But an ancient, wicked shadow grows over the faerie lands, and Feyre must find a way to stop it . . . or doom Tamlin—and his world—forever.
Dead Heat
By: Patricia Briggs
Release Date: March 3, 2015
Genre: Urban Fantasy
Goodreads | Amazon

For once, mated werewolves Charles and Anna are not traveling because of Charles's role as his father's enforcer. This time, their trip to Arizona is purely personal, as Charles plans to buy Anna a horse for her birthday. Or at least it starts out that way…

Charles and Anna soon discover that a dangerous Fae being is on the loose, replacing human children with simulacrums. The Fae's cold war with humanity is about to heat up—and Charles and Anna are in the cross fire.
Love Strung
By: Jamie W. Matlock
Published: Jan. 21, 2015
Genre: Contemporary Romance
Goodreads | Amazon | B&N

Country music hopeful, Kennedy Masters is a leap-before-you-look type of woman. Live in the moment, the here and now. That's her policy – anything other than that is boring, and she's never been particularly interested in boring. So, when she makes the erratic decision to join country music's reigning star, Mick Callahan, on his tour bus after a show, she's just living right up to her life's motto.

The only problem? Her snap decision making lands her on the front page news and it's for less than desirable reasons. Even worse is the fact that Mick decides she's his next conquest, sporadically announcing to the public that they're engaged.

Her only option? Hiding out at the Callahan Ranch until the storm blows over – a decision that she's not altogether pleased with, but one that she must follow considering the circumstances. When unexpected sparks fly upon meeting Mick's mysterious older brother, Griff Callahan, Kennedy's left sorting through matters of the heart – something that's not exactly her forte.

Oh,and her career? Well, it's been labeled TBD.

Kennedy must figure out a way to deal with her heart and her career, all while fighting her own feelings and fending off someone else's.
Won through Goodreads giveaway 🙂
Hero
By: Samantha Young
Published: Feb. 3, 2015
Genre: Contemporary Romance
Goodreads | Amazon | B&N

Alexa Holland's father was her hero—until her shocking discovery that she and her mother weren't his only family. Ever since, Alexa has worked to turn her life in a different direction and forge her own identity outside of his terrible secrets. But when she meets a man who's as damaged by her father's mistakes as she is, Alexa must help him.

Caine Carraway wants nothing to do with Alexa's efforts at redemption, but it's not so easy to push her away. Determined to make her hate him, he brings her to the edge of her patience and waits for her to walk away. But his actions only draw them together and, despite the odds, they begin an intense and explosive affair.

Only Caine knows he can never be the white knight that Alexa has always longed for. And when they're on the precipice of danger, he finds he'll do anything to protect either one of them from being hurt again…