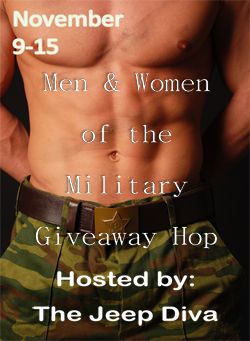 What's not to love about men and women in uniform? They sacrifice more than anyone could ever imagine to protect our country. Plus, they look good in their uniforms, not to mention they are damn sexy out of them as well. Trust me… I'm married to a Marine. Which is why there was not a snowballs chance in hell that I was going to miss out on being part of this giveaway hop! Now before we get to the giveaway I would like to share some awesome photos of the people who lay their lives on the line for our freedom.
The Mr.
Two of them were taken at the filming of the Belleau Wood film for the National Museum of the Marine Corp. The bottom one was from his latest promotion when I got to pin him.
Now before you start clickidy clacking away down there… check out the Wounded Warrior Project website and help give back to these amazing people who serve our country!
You can also send books to the troops through Books For Soldiers.
Winner will get their choice of 2 of the ebooks below!
Her Forbidden Hero
By: Laura Kaye
Genre: Contemp. Romance

You always want what you can't have…

She's always been off-limits…

Former Army Special Forces Sgt. Marco Vieri has never thought of Alyssa Scott as more than his best friend's little sister, but her return home changes that…and challenges him to keep his war-borne demons at bay. Marco's not the same person he was back when he protected Alyssa from her abusive father, and he's not about to let her see the mess he's become.

…but now she's all grown up.
When Alyssa takes a job at the bar where Marco works, her carefree smiles wreak havoc on his resolve to bury his feelings. How can he protect her when he can't stop thinking about her in his bed? But Alyssa's not looking for protection–not anymore. Now that she's back in his life, she's determined to heal her forbidden hero, one touch at a time…
One Night with a Hero

By: Laura Kaye

Genre: Contemp. Romance

He wants just one night…
After growing up with an abusive, alcoholic father, Army Special Forces Sgt. Brady Scott vowed never to marry or have kids. Sent stateside to get his head on straight—and his anger in check—Brady's looking for a distraction. He finds it in his beautiful new neighbor's one-night-only offer for hot sex, but her ability to make him forget is addictive. Suddenly, Brady's not so sure he can stay away.
…what they need is each other.
Orphaned as a child, community center director Joss Daniels swore she'd never put herself in a position to be left behind again, but she can't deny herself one sizzling night with the sexy soldier who makes her laugh and kisses her senseless. When Joss discovers she's pregnant, Brady's rejection leaves her feeling abandoned. Now, they must overcome their fears before they lose the love and security they've found in each other, but can they let go of the past to create a future together?
Forged in Fire
By: Trish McCallan
Genre: Romantic Suspense

Beth Brown doesn't believe in premonitions until she dreams a sexy stranger is gunned down during the brutal hijacking of a commercial airliner. When events in her dream start coming true, she heads to the flight's departure gate. To her shock, she recognizes the man she'd watched die the night before.

Lieutenant Commander Zane Winters comes from a bloodline of elite warriors with psychic abilities. When Zane and two of his platoon buddies arrive at Sea-Tac Airport, he has a vision of his teammates' corpses. Then she arrives—a leggy blonde who sets off a different kind of alarm.

As Beth teams up with Zane, they discover the hijacking is the first step in a secret cartel's deadly global agenda and that key personnel within the FBI are compromised. To survive the forces mobilizing against them, Beth will need to open herself to a psychic connection with the sexy SEAL who claims to be her soul mate.
 Infatuation

By: Melissa Schroeder

Genre: Erotica

Francis McKade is a man in lust. He's had a crush on his best friend's little sister for years but he has never acted on it. Besides that fact that she's Malachi's sister, he's a Seal and he learned his lesson with his ex-fiancé. Women do not like being left alone for long months at a time. Still, at a wedding in Hawaii anything can happen—and does. Unfortunately, after the best night of his life, he and Mal are called away to one of their most dangerous missions.Shannon is blown over by Kade. She's always had a crush on him and after their night together, it starts to feel a little like love. But, after the mission, Kade never calls or writes and she starts to wonder if it was all a dream. Until one night, her brother Mal drags him into her bar and grill and Shannon gets the shock of her life.

Kade isn't the man Shannon knew in Hawaii, or even the last few years. Losing a friend and being injured changes a man, especially one who had never felt so vulnerable. He still can't shake the terror that keeps him up at night. Worse, he is realizing that the career he loves just might be over.Shannon is still mad, but she can't help but hurt for the man she loves. He is darker, a bit more dangerous, but beneath that, he is the Kade she's known for so many years. When he pushes her to her limits in the bedroom, Shannon refuses to back down. One way or another, this military man is going to learn there is no walking away from love—not while she still has breath in her body.
Because of You

By: Jessica Scott

Genre: Contemp. Romance

Keeping his men alive is all that matters to Sergeant First Class Shane Garrison. But meeting Jen St. James the night before his latest deployment makes Shane wonder if there's more to life than war. He leaves for Iraq remembering a single kiss with a woman he'll never see again—until a near fatal attack lands him back at home and in her care.Jen has survived her own brush with death and endured its scars. And yet there's a fire in Shane that makes Jen forget all about her past. He may be her patient, but when this warrior looks her in the eyes, she feels—for the first time in a long time—like a woman. Shane is too proud to ask for help, but for Jen, caring for him is more than a duty—it's a need. And as Jen guides Shane through the fires of healing, she finds something she never expected—her deepest desire.
  Until There Was You

By: Jessica Scott

Genre: Contemp. Romance

A by-the-book captain with a West Point background, Evan Loehr refuses to mix business with pleasure—except for an unguarded instance years ago when he succumbed to the deep sensuality of redheaded beauty Claire Montoya. Since that brief lapse in judgment, Evan has been at odds with her. But when he is asked to train a combat team alongside Claire, battle-hardened Evan is in for the fight of his life.

Strong, gutsy, and loyal, Captain Claire Montoya has worked hard to achieve her high military rank. In Evan Loehr, Claire sees a spoiled commander who puts the rules before everything else—including his people. Army orders force them together and Claire soon discovers that there is more to Evan than meets the eye. He too has dark secrets and deep longings. For all their differences, Evan and Claire share two crucial passions: their country and each other.